Design
|
Implement
|
Support
Where excellence in value, customer service, precision, design and delivery are at the very core of every single partnership, every single project, every single day.
GSTEC focuses on meeting client requirements, using best-in-class products to deliver superior value and quality across all of our solutions.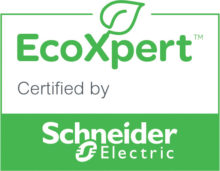 The EcoXpert program enables smarter buildings, more reliable infrastructures and optimized energy efficiency.
GSTEC has been a certified and proud EcoXpert partner since 2013. On the back of the value offering that this platform represented, GSTEC have invested heavily in training and familiarisation on the EcoXpert platform, and these products have become a key offering in our projects.
Schneider's innovative channel partner arrangements allow GSTEC to enjoy the support and backing of a market leader, while maintaining independence and flexibility – a matter of critical importance to our clients.
On behalf of AMP Capital, I would like to thank GSTEC and importantly, the individuals from your business who attended to the issue on Friday night. Their responsiveness, technical expertise and dedication to task ensured that we were able to minimise the duration of the outage.
AMP Capital is committed to delivering the best possible service to our tenants, whilst emergencies in our buildings can and do happen, it gives me great comfort knowing that we have contractors partnering with us who go beyond the expectations of their role.
Thank you for this fabulous example of teamwork and professionalism
AMP Capital Property – Head of Asset Operations
We take this opportunity to thank your project team for the successful completion of the project with minimal disruption to the Club's operation.
GSTEC was engaged directly by the Club as the principal contractor for project management and co-ordination of all work faces.
Throughout the project, full plant operation at the commencement of every day was essential which required staged works to be performed during nights and weekends. This no doubt placed considerable personal demands on the projects team, particularly your Alex Nott who, in such circumstances, demonstrated patience, resilience, and general persistence to achieve a successful project conclusion.
Again, our sincere thanks for a job well done!
Neel Chand
Penrith RSL – Chief Executive Officer
Although predominantly located on the Eastern Seaboard , our projects span the country and include; Infrastructure, Commercial, Retail, Government, Institutional, Data Centres, Industrial Office and Hotels.
This is a snapshot of some of our recent projects.
35 TUMBALONG BLVD, HAYMARKET SYDNEY
A global first Integration project with Trellis EMS equipment, for our client, AG COOMBS.

14-18 LEE ST,
SYDNEY
BMS and chiller upgrade in a 100% tenanted and occupied building using Niagara BMS. We worked with our client, Grosvenor Engineering Group and NDY consultants.
55 GEORGE ST,
SYDNEY
With our client, Crest Air Conditioning, we completed a 176 room hotel room HVAC and central plant upgrade within the Holiday Inn, whilst the hotel remained operating and occupied.

NECA Excellence Awards
These awards celebrate the leaders of the electrotechnology industry with the winning projects demonstrating the creativity and expertise of NECA member companies across a wide range of applications.
We were thrilled to be the 2018 winners of the prestigious NECA Energy Efficiency and Environment award for our ALDI Store Energy Efficiency Upgrade Rollout. The overall project achieved a significant reduction in the target stores' HVAC energy consumption (over 45% in four of the thirteen stores) at low cost whilst also, and crucially, utilising the existing mechanical/HVAC equipment."
Head Office
1 / 10-14 Lilian Fowler Place
Marrickville NSW 2204