OUR AWARDS
We are proud of our industry wide reputation of excellence in design, execution and workmanship. And although each of our projects is treated with the utmost care and diligence, it is an honour to be recognised by our peers and our industry with select awards.
EcoXpert Project of The Year – 2019
WINNER
The award-winning EcoXpert Partner Programme is a worldwide network of Schneider Electric trained and certified partners who specialise in power management, building optimisation and energy efficiency.
The prestigious EcoXpert Project of the Year was award to GSTEC in 2019 for our Darling Harbour Live – South East Plot. The project consisted of an Integrated EMS and BMS solution using Schneider EcoStruxure software, integration to Daikin VRF system for billing of tenant AC usage and bespoke room zone control utilized incorporated into the Daikin room AC.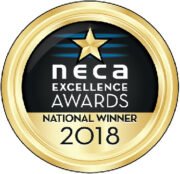 NECA Excellence Awards – 2018
NATIONAL WINNER
These awards celebrate the leaders of the electrotechnology industry with the winning projects demonstrating the creativity and expertise of NECA member companies across a wide range of applications.
We were thrilled to be the 2018 winners of the prestigious NECA Energy Efficiency and Environment award for our ALDI Store Energy Efficiency Upgrade Rollout. The overall project achieved a significant reduction in the target stores' HVAC energy consumption (over 45% in four of the thirteen stores) at low cost whilst also, and crucially, utilising the existing mechanical/HVAC equipment.
ss normal distribution of letters. making it look like readable English.
Head Office
1 / 10-14 Lilian Fowler Place
Marrickville NSW 2204